permalink
Bicycle Commuting Update
March 21, 2014
I'm well into becoming a regular cycling commuter now and have some updates on how things are going. I'm doing it 2-4 times per week now, and am down to average ride times in the low 50 minute range. In total, I've ridden over 1,000 miles.

For a quick summary, there are several things that make this work well. First, there are Class I (separated, no cars) bike paths for almost the whole ride. No stops or traffic makes up for a slower top speed. Having both boys at the same day care is also very important. On days I'm dropping off or picking up the boys, I can leave early, drop them off (they'll take Devin to his school, then pick him up after), leave my car in their lot, ride to work and back, then pick them up and head home.

The benefits of this commute are numerous:

Health - I've dropped several pounds on the scale, and inches around the waist. I'm much faster and much less tired after rides from when I started. This alone makes the endeavor worthwhile.

Time - This has gotta be the most time efficient workout possible. Driving takes 45 minutes each way commute and is basically lighting time on fire. Recovering that time gives me almost two hours of working out, for only 30-40 minutes out of my day (5-10 minutes extra ride time, 5-10 minutes extra gear time, each way). But it gets better! I swear I get that time back and more with extra energy at night. When I ride to work I'm able to stay productive much longer into the night. And these are valuable hours after the kids are in bed!

Money - I'm saving some money by not driving my car. These calculations get really complicated really quickly though. The gas ($.20/mile) is a certain. The wear on my car ($.10/mile) is a good bet to add into the mix. Insurance is marginally cheaper with fewer miles, but hard to calculate. If it helps stretch out the lifetime of my car(s) enough that I buy fewer over my lifetime, that's a HUGE win, but also hard to calculate. On the downside, I usually pay for extra child care in the mornings to leave earlier so I'm not losing that 30-40 minutes (see above) of time at work. Also, I tend to eat a bit more lunch, which never wipes out my daily gas savings, but can certainly put a big dent into it. Some cheap, healthy snacks at my desk have helped there. Now, I've plowed all these savings back into gear, plus I've "borrowed" a bit some more for some nice upgrades, so it'll be a while before this actually shows up in my pocketbook. One thing is for sure though - it's a lot cheaper than a gym membership!

Traffic - 14 of the 15 miles on my ride is flat-out with no stops. I only have to dodge slower bikes and walkers. This leaves a much lower variance in my travel time, where driving can be anywhere from 35min (really good day, off-peak) to 1:10 (really bad day). I can plan on being home within 5 minutes of my best ride time. Instead of worrying about traffic, I worry about which way the wind is blowing.

External Benefits - I'm reducing your traffic, pollution, gas, and health care costs. You're welcome! I hope that outweighs the extra food and water I'm using up.

Vince
---
permalink
Biking to work!
October 31, 2013
Yesterday I completed my second successful bike commute day. It took me a little while to realize how effective it could be, and now that I've tried it, it's been great. From my house, it's just a half mile ride down the hill to the beach, where I immediately pick up the dedicated strand bike path (no walkers!), which I take all the way to Marina Del Rey. From there, I continue on the Ballona Creek Trail to it's end in eastern Culver City. It drops me off at a park that's two residential blocks from my office. In total it's a little over 15 miles of almost all dedicated bike paths. It took me 1:09 to work, then 1:24 home for my first ride last week. I pumped up the tires, installed toe clips, a cell phone holder (so I can still listen to NPR), and an emergency pump for this weeks ride, where I dropped my times to 1:06 & 1:07. It's a 35-45 minute drive each way, so it's not even costing me that much time to avoid traffic and see the ocean. A big win!

Vince
---
permalink
Hermosa Beach
August 04, 2013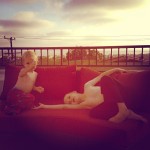 We moved into our new home in Hermosa Beach a little over a month ago, and we're just about all settled in now.

We looked far and wide for where we'd look to settle down for a more permanent home, and kept coming back to the South Bay. The beach culture, great schools, new homes, and relative proximity to our West LA jobs put Hermosa Beach over the top. After a very long and arduous process of selling our old home and buying our new home, we're in.

So far, the house and area has met and exceeded all our expectations. The extra space and new house makes our home life easier and better. Grants new schools is working out great (and Devin joins him there during the summer and after school), and we've been mightily impressed by Devin's new school at each visit. He starts after Labor Day, which puts us back on a normal school schedule after the LAUSD mid-August starts.

Now if you'll excuse me, I've gotta catch some more ocean breeze from our roof deck :-)

Vince
---
permalink
Spring Break
March 31, 2013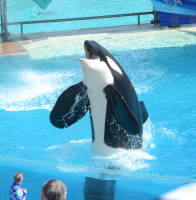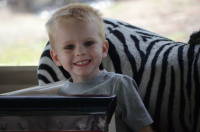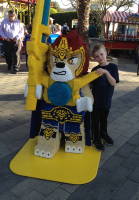 For the first time this year, our boys had a week of no school for spring break, so we decided to take our first "family vacation". We thought San Diego would be easy and fun, and to top it off, JoJo and Grandpa decided to come out too! To accomodate such a crew, we made our first try at AirBnB, and rented out a 3 bedroom townhome in the heart of Pacific Beach for a song, and we were all set. The whole AirBnB experience was fantastic, as we got much more space then what equivalent hotel rooms would have, in a great location with the beach and lots of shops/restaurants/bars within easy walking distance.

During our week there, we went to SeaWorld, the Train & Science museums at Balboa Park, Legoland, the San Diego Zoo, and of course the beach. Everybody loved SeaWorld. The park is well kept-up and overall very nice. Devin loved their new roller coaster, everybody loved the Shamu show, and the boys spent half the day in the play area. I took Devin on a special trip to Legoland, where highlights included the water park, and building then racing Lego cars against the other kids. Devin continues to be a thrill ride lover, and prefers to ride by himself now, no grown-ups. Finally, we wound out our week at the Zoo, where we got to feed the Giraffes.

We also got to visit with some good friends who live in the area, and sneak out to one adult dinner at the excellent Stone Brewery & Gardens. After that trip, plus a large Easter Egg hunt this morning, we're all wiped out. Maybe we'll just send them to a day camp next year...

Vince


---
permalink
Kindergarten
August 14, 2012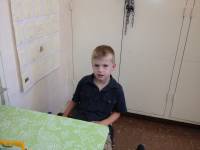 We've had quite a big week! Devin hit a couple of big milestones - he made his first fix to my toy construction (MagnaTiles), then did his first proper volleyball forearm passing (aka "bumping") at the beach. Then, both boys said goodbye to their friends at pre-school, so Grant could move on to a new school closer to home, and Devin could move on to Kindergarten! Grant's still getting used to going to school without his big brother, but Devin took to his new school with new friends right away. The parents are loving the (much) shorter times to the new schools, and that both boys come home tired enough to go to sleep on time. We can't wait to see how they keep doing at their new schools.

Vince
---
permalink
Thanksgiving
November 28, 2011
permalink
Devin turns 4!!!
July 12, 2011
permalink
Hapy Birthday Grant!
April 03, 2011